2,000 miles. Five hours and 43 minutes. From Newark airport I'll be traveling to Phoenix to take part in the Reynolds Center's annual Strictly Financial seminar.
I'll be spending the next week with about 30 of my peers — some journalism professors, others working reporters — learning about the business we all attempt to cover.
All expenses paid.
But knowing how unfair a four day reprieve from the tri-states' current biting cold must sound, I'll be live-blogging the next four days.
There will be insights from infamous investigative reporter Jim Steele, as well as tips on how best to comb through SEC filings and income statements.
Here's the agenda; And here's all of the handouts for the seminar. 
Settled in and looking forward to a few days of learning at the Reynolds Center #bizj

—
Sandra Pedicini (@dineshopwrite) January 02, 2013
I am at Reynolds Business Journalism Week at Arizona State this week. If you see me there, please say hello. #bizj

—
Talking Biz News (@talkingbiznews) January 02, 2013
WEDNESDAY — Jan. 2
Blog: It's strictly financials for me this week in Phoenix @bizjournalism #bizj shar.es/4ntuX

—
Chris Otts (@christopherotts) January 02, 2013
8:40 am:
Andrew Leckey, a founder and the president of the Reynolds Center, welcomes us.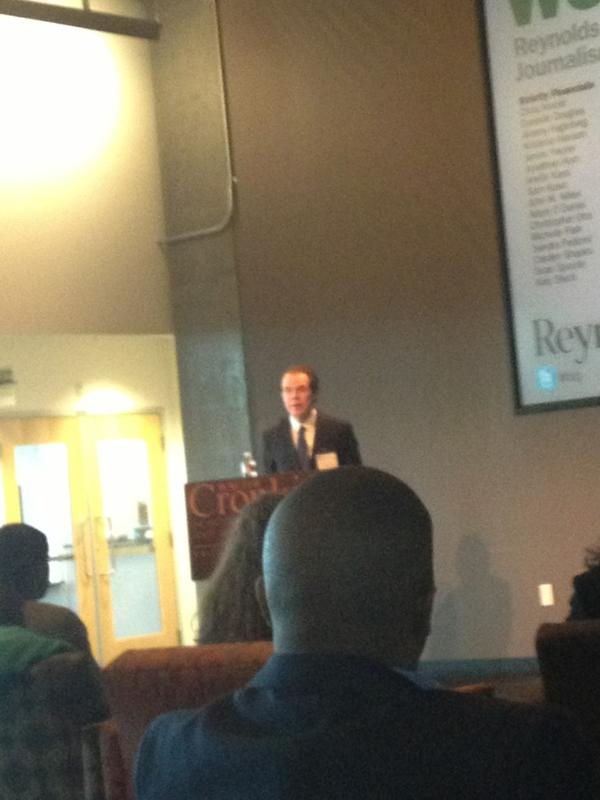 Here are some of the folks that I'll be spending the next few days with; Read their bios.
Chris Arnold, correspondent, NPR, and Donald W. Reynolds Nieman Fellow in Business Journalism
Danielle Douglas, banking reporter, The Washington Post
Jeremy Fugleberg, business/energy editor, Casper (Wyo.) Star-Tribune
Kristena Hansen, reporter, Phoenix Business Journal
Janine Harper, producer, Fuji TV
Jonathan Horn, senior staff writer – economy, San Diego Union-Tribune
Arielle Kass, business reporter, The Atlanta Journal-Constitution
Sam Kusic, staff writer, The Indiana (Pa.) Gazette
John W. Miller, staff reporter, The Wall Street Journal
Adam O'Daniel, finance editor, Charlotte Business Journal
Christopher Otts, business/economy reporter, The (Louisville) Courier-Journal
Michelle Park, finance reporter, Crain's Cleveland Business
Sandra Pedicini, business reporter, Orlando Sentinel
Carolyn Shapiro, consumer and retail writer, The (Norfolk) Virginian-Pilot
Katy Stech, bankruptcy reporter, Dow Jones/The Wall Street Journal
Some of the presenters are: Chris Roush, Walter E. Hussman Sr. Distinguished Scholar in business journalism. Director, Carolina Business News Initiative, and James K. Gentry, Ph.D., is the Clyde M. Reed Teaching Professor and former dean at the School of Journalism and Mass Communications.
9:00 am: 
Some tidbits from two-time Pulitzer Prize winner Jim Steele — half of the infamous reporting team of Bartlett and Steele, a contributing editor to Vanity Fair and a former editor at the Philadelphia Inquirer:
Steele: talking about oil, jobs and corporate greed, proving there are no new stories just new reporters. #bizj http://t.co/SoJCYLT5

—
(@seansposito) January 02, 2013
Steele: One of the most exciting things about journalism is that you never really stop learning... you are also constantly relearning.#bizj

—
(@seansposito) January 02, 2013
Steele: You need to have a document state of mind, which is now a web state of mind. #bizj

—
(@seansposito) January 02, 2013
Steele: It's important to put stories into context. "Show me where things have come from." #bizj

—
(@seansposito) January 02, 2013
Steele: Do we start with a game plan? The answer to that is no. We start with a question. We start with testing hypothesis. #bizj

—
(@seansposito) January 02, 2013
Journalist Jim Steele "have a documents/web state of mind" #bizj

—
Melita Garza (@melitagarza) January 02, 2013
Follow me on Twitter to read quotes from the rest of the talk. 
10:30 am: 
"Markets: An Overview"
My notes for this class are here.
1:30 p.m
"Understanding Financial Statements: Income Statement"
My notes for this class are here. 
5:00 p.m.
The day ended with a tour of the ASU's Cronkite J-school.
The crawl welcoming us to #bizj and @Cronkite_ASU lockerz.com/s/274118677

—
Micheline Maynard (@MickiMaynard) January 03, 2013
THURSDAY — Jan. 3
Today started where yesterday left  off with a continuation of the 'Understanding Financial Statements Class.'
8:30 am: 
Here is a bookmark to where we picked up.
8:39 am: 
"Common-Size Analysis"
The handouts for this section are, here. These documents show the percent change of all the important numbers, this could show why something like Cost of Goods is falling while Revenues are rising. 
*You can find all of these spreadsheets are on Edgar, or SEC.gov — all companies do 'Common Size Analysis'
10:30 am: 
"Digging Deeper: Goodwill and Pro Forma"
11:30 am:
"SEC Documents"
12:00 pm: 
 Barlett & Steele Awards Luncheon and Panel Discussion
From BusinessJournalism.org:
Barlett & Steele gold award winner and The New York Times' lead reporter sat down with ProPublica editor Steve Engelberg  to talk about how he got the scoop on Wal-Mart de Mexico: http://propub.ca/Ub6bS5 

In the most recent ProPublica #MuckReads podcast, Barstow and Engelberg talk about how the investigation got started. Barstow explains how he found that Mexico's FOIA/public records law was very helpful and why looking into the case of foreign bribery was important to Americans.

Barstow received the top gold award of $5,000 in the sixth annual Barlett & Steele Awards for Investigative Business Journalism.
Bartlett and Steele award winners #bizj http://t.co/O8sBjCCv

—
(@seansposito) January 03, 2013
Barstow received tens of thousands of Walmart documents on a hard drive in front of coke machine in a dodgy hotel. #BizJ

—
(@seansposito) January 03, 2013
Allison Young mastered the use of the video recorder for "Ghost Factories" series for USA Today. Silver Award Winner. #BizJ

—
(@seansposito) January 03, 2013
N&O/Charlotte investigation on healthcare, which won the Bronze, took a tremendous amount of cooperation between two newsrooms. #BizJ

—
(@seansposito) January 03, 2013
Follow me on Twitter to read more tidbits from the rest of the panel. 
2:05 pm: 
"Digging Deeper Into Key Areas"
3:35 pm: 
"Banking Notes" 
Also: 
Sources SlideShow
3:56 pm:
Chasing Chesapeake 
One of the stories in the series
FRIDAY—Jan. 4
10:30 am: 
Decoding Financial Statements
*Companies that are trying to inflate their income can do this through a combination of increasing pricing, and decreasing cost — becoming more efficient. 
*Accounts receivable collection period should be equal to a billing statement (Slide 9), if it is higher than that there is something amiss. 
SATURDAY—Jan. 5
Financial Markets in 2013 (Drivers of Stock and Bond Prices)
*reversion from the mean: if you track stock prices, it will go up it will go down, but when it gets too far away from what it's mean value is (the average) it's probably going to go back to the mean. If the average stocks return about 10 % over the past 8 years, then when they start returning 12, 15, 20 % a year you can figure that next year they are not going to do that again. 
You get cycles in this data. 
Here's Reynolds' overview of the entire seminar.